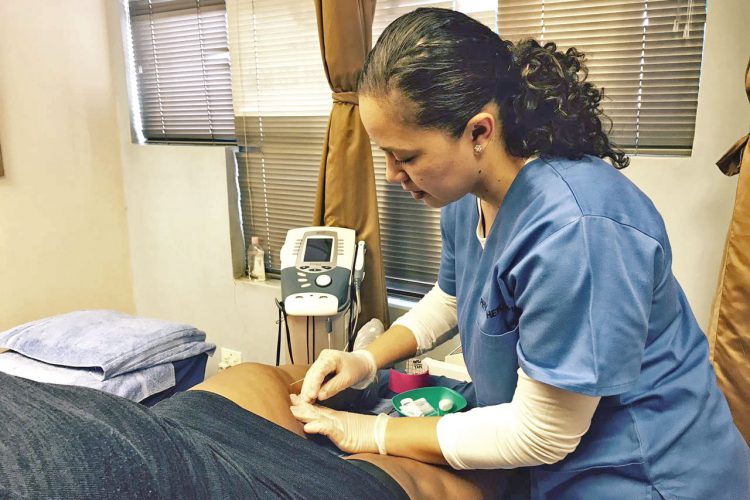 Pain Management
Massage, myofascial release, electrotherapy such as TENS (Trans-electrical neural stimulation), shock wave, ultrasound and interferential therapy, swelling reduction and exercise prescription are examples of modalities we use to treat and minimise pain. Heat, ice and combination therapy may be prescribed. Dry needling, K-Tape and strapping are adjunctive modalities used to manage our patients comprehensivel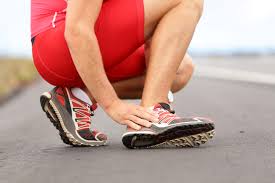 Sports Injuries
Runners knee, golfers elbow, ankle sprain, ACL, groin pulls are common examples of sports injuries. We have a specialised sports physiotherapist who has clinical and practical experience in the management of a variety of sports injuries. Lauren Engelbrecht understands the role of early active and safe rehabilitation to get our sportsman and women back to their fitness. We have experience with managing cyclist and runners especially those that are involved in the annual events of 94.7 Cycle Challenge and the Comrades Marathon.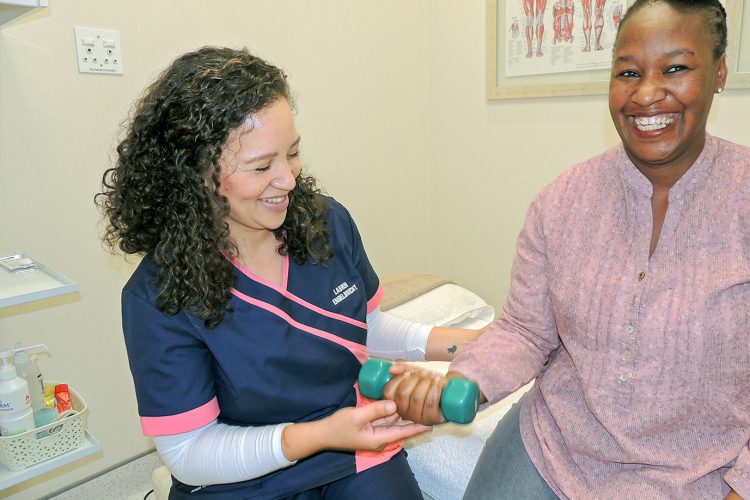 Orthopaedic Injuries
Joint replacements, fractures, dislocations and arthritis are common conditions that require orthopaedic rehabilitation. Pain management, swelling reduction, exercise prescription(stretches, range of movement exercises, strengthening exercises, balance and advance training) are examples of physiotherapy interventions used. Dry needling, K-Tape and strapping are adjunctive modalities used to manage our patients comprehensively.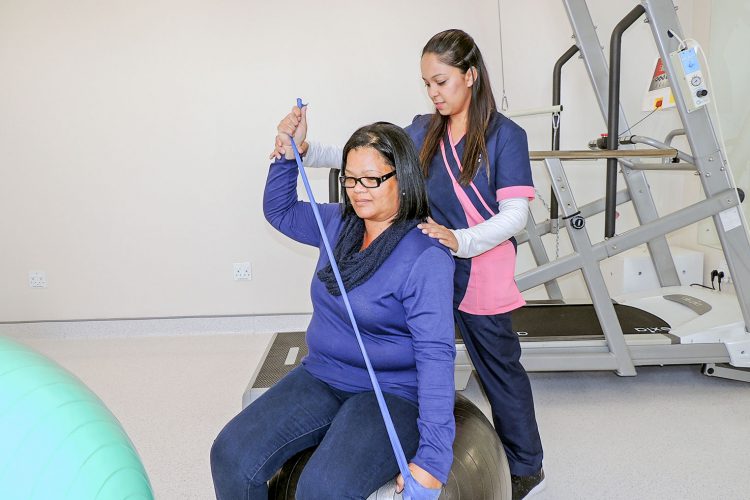 Neurological Conditions
Stroke, head injuries, nerve injuries, spinal cord injuries and infections, such as meningitis, encephalitis, polio, and brain abscesses can result in mental and physical limitations which negatively affect patients' mobility and functionality. The aim of physiotherapy and rehabilitation is to improve function, reduce symptoms, and improve the well-being of the patient. Early, active intervention is key to improve functional outcomes of patients.
Neural stretches, balance training, use of assistive devices, exercise therapy, strengthening exercise and functional rehab are examples of modalities used in therapy. Our state of the art gym is equipped with pain management modalities, functional electrical stimulation, standing frames, tilt tables, medical treadmill, active/passive hand and feet cycle and physio gym balls which all aid in holistic management of these patients.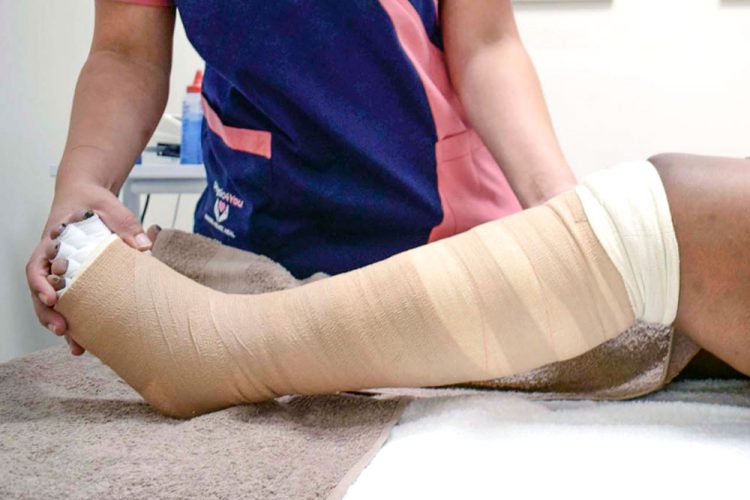 Lymphoedema Management
Lymphoedema is an abnormal, long term swelling of part/s of the body caused by a collection of lymphatic fluid in the tissues below the skin. Its occurs when there is a dysfunction in the lymphatic system. Any cancer- related surgery that requires the removal of lymph glands for staging purposes, radiation following surgery, obesity, family history of swollen limbs are examples of conditions that put patients at risk. Lymphoedema is a chronic condition. Treatment is aimed at reducing the swelling and education about self-management. Treatments modalities used include Manual Lymph Drainage (MLD), multi-layered lymphoedema bandaging, meticulous skin care, exercise and self-massage, compression garments application and self-management advice. With early diagnosis and correct treatment, patients can enjoy a full, productive life with little impact on lifestyle. Lauren Engelbrecht is a qualified and certified Lymphoedema Therapist and is a member of the Lymphoedema Association of South Africa (LAOSA)
Womens Health
Breast surgery, lymphoedema, urinary incontinence, breast feeding advice, treatment of cracked nipples, ante and post-natal care are examples of conditions we assist our lady patients with.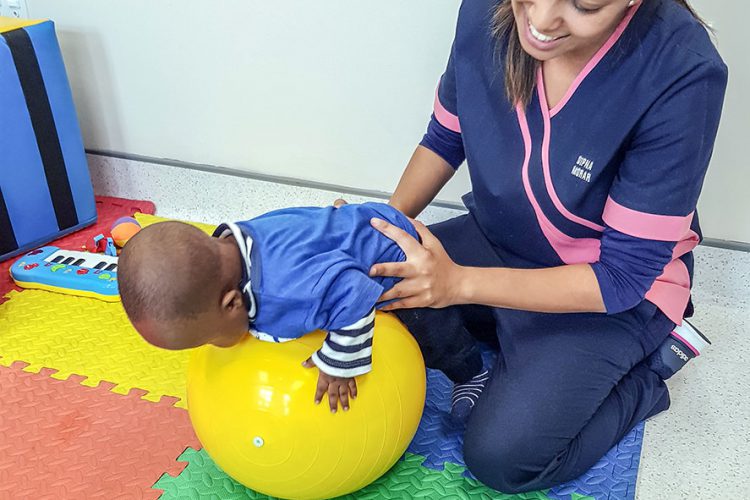 Paediatric Rehabilitation
This service addresses the need for neurodevelopmental supportive care and therapy for the neurologically impaired infant and child. Therapy is aimed at improving joint movement, relieving pain and spasm, encouraging good postural control and movement patterns to achieve the highest function and quality of life. Our paediatric gym is equipped with aquatherapy and specialised equipment to complement our services. Some of the conditions treated include Cerebral Palsy, Downs Syndrome, Hydrocephalus, developmental delay and movement disorders. Dipna Morar is a qualified neurodevelopmental therapist and is a member of the South African Neurodevelopmental Therapy Association (SANDTA).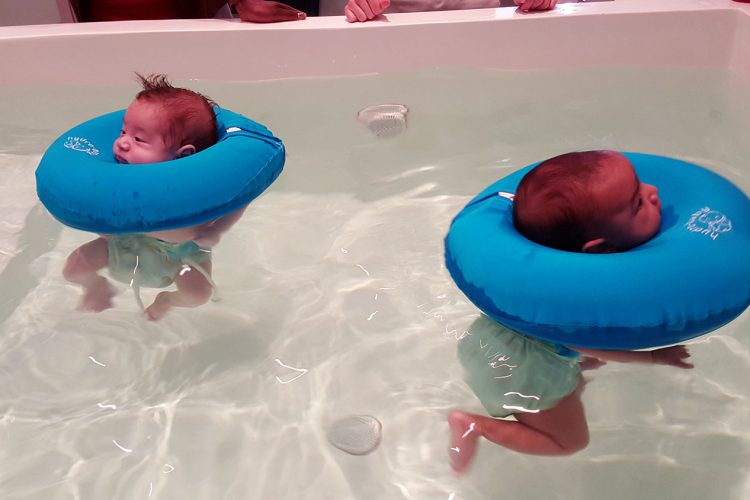 Neonatal & Paediatric Aquatherapy
This exciting service is aimed at facilitating spontaneous movement patterns in warm water. Infants can start as early as 4 weeks. Careful assessment will be done first. The water is warmed to a comfortable temperature and is NOT treated with harsh chemicals. It is safe, fun and has many therapeutic benefits including relief of pain and muscle spasm, improv joint mobility and movement, strengthen weak muscles, strengthen core muscles, re-education of paralysed muscles, improve sleep patterns, reduce colic and general improvement in functional state. Dipna Morar is a qualified neurodevelopmental therapist and is a member of the South African Neurodevelopmental Therapy Association (SANDTA).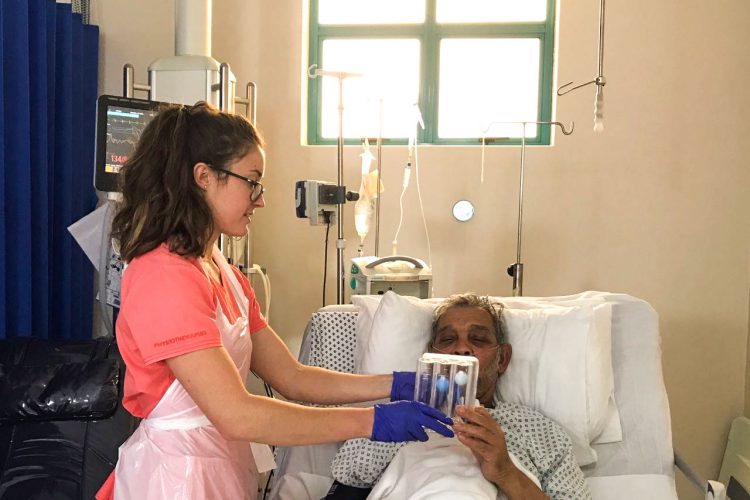 Respiratory Rehabilitation
Aims to assist patients with lung conditions such as pneumonia and COPD (Chronic Obstructive Pulmonary Diseases). These include asthma, bronchiectasis, cystic fibrosis and bronchitis. It is also beneficial for patients who undergo lung surgery. The aim of therapy is to ensure that the patients lungs are clear and free from secretions with minimal symptoms of respiratory distress. Additionally, we aim to improve knowledge of lung condition and promote self-management, increase muscle strength and endurance (peripheral and respiratory), increase patient exercise tolerance, help in managing anxiety and depression, prevent recurrent hospitalisation and improve general patient quality of life. It involves the provision of manual chest physiotherapy such as percussions, vibrations and shaking on the chest wall to help loosen the secretions. This is often done after the application of a nebuliser. Breathing exercises and coughing techniques are prescribed to help expel the secretions effectively and minimise shortness of breath.
Exercise therapy is key in respiratory rehabilitation as it causes several physiological adaptations which can improve physical condition. There are three basic types of exercises to be considered. Aerobic exercise tends to improve the body's ability to use oxygen by decreasing the heart rate and blood pressure. Strengthening or resistance exercises can help build strength in the respiratory muscles. Stretching and flexibility exercises like yoga and Pilates can enhance breathing coordination. Additionally pursed lip breathing can be used to increase oxygen level in patient's body. Breathing games can be used to motivate patients to learn pursed lip breathing technique.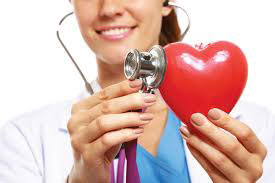 Cardiac Rehabilitation
Cardiac rehabilitation, also called cardiac rehab, is a medically supervised program for people who have had a heart attack, heart failure, heart valve surgery, coronary artery bypass grafting, or percutaneous coronary intervention. Physiotherapy is aimed at improving patients cardiorespiratory condition: ensuring clear, secretion-free lungs, improving rate and pattern of breathing, encouraging early, active exercises and general well-being. We will assist you with by recommending lifestyle changes, education on heart-healthy living, and counselling to reduce stress and help you return to an active life. Cardiac rehab can improve your health and quality of life, reduce the need for medicines to treat heart or chest pain, decrease the chance you will go back to a hospital or emergency room for a heart problem, prevent future heart problems, and even help you live longer. With our state of the art gym and equipment such as the Alixir Health Walker, Active/Passive hand and feet cycle, exercise therapy will be the cornerstone of your treatment intervention. Before starting your program, we will take your medical history, do a physical exam, and perform tests.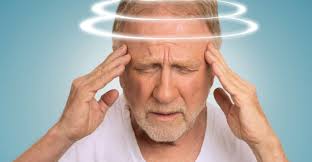 Vestibular Rehabilitation
Vestibular rehabilitation is an exercise-based program, designed by our specialised physiotherapist, Sharmila Singh to improve balance and reduce dizziness-related problems. Typical patients are those diagnosed with dizziness, imbalance, vertigo, Meniere's syndrome, benign paroxysmal positional vertigo, neck-related dizziness and migraines, and those who have had a stroke or brain injury or who frequently fall. Common symptoms that can be helped with vestibular rehabilitation include
 Dizziness or blurry vision with head movements
Neck tightness, stiffness, and/or pain
 Imbalance or the need to hold onto objects when walking
Headaches
Frequent falls
Generalized "dizziness, wooziness and foggy head" feelings
Vertigo/spinning
After a comprehensive assessment, a plan of care is developed. The goal of your treatment plan is to improve any deficits that were identified. This, in turn, will improve your ability to function in activities of everyday living, reduce your risk for falling, and ultimately improve your quality of life.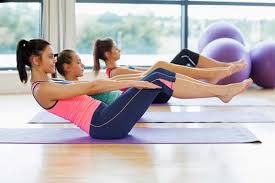 Pilates
Pilates is a mind and body centering technique that emphasises the importance of beginning movement from a central core of stability. It is suitable for everyone: from beginner to advanced and is used in orthopaedic, neurological, sports, women's health and paediatric settings. Exercises are broken down and modified to be suitable for each patient. The focus is on the inner core and control. Dosage is based on precision, skill and fatigability. Nicolene Wessels is a certified and qualified APPI Pilates instructor. Some of the benefits of her Pilates class include:
Improved flexibility
Increased muscle strength and tone, particularly of your abdominal muscles, lower back, hips and buttocks
Improved stabilisation of your spine
Improved posture
Rehabilitation or prevention of injuries related to muscle imbalances
Improved coordination and balance
Increased lung capacity and circulation through deep, lateral breathing
Improved concentration and body awareness
Relaxation